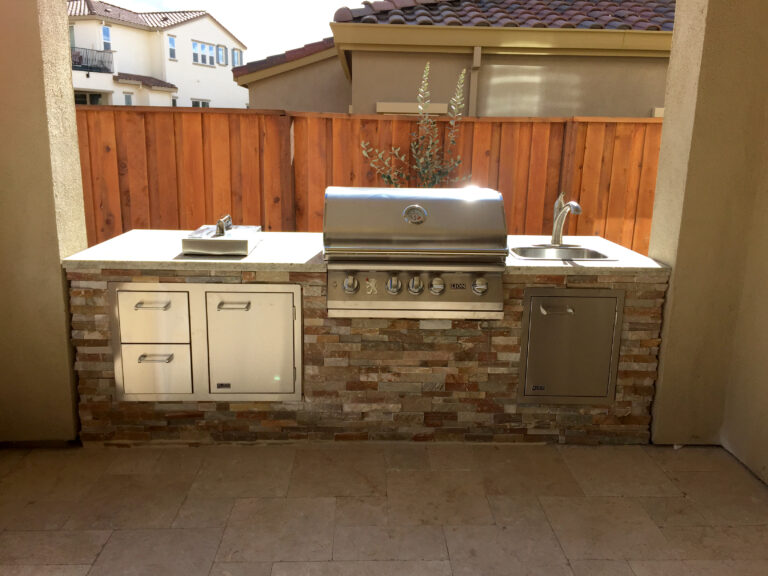 Outdoor kitchens have become increasingly popular over the years, and for good reason. They provide a relaxing way to entertain friends and family while being able to enjoy the fresh air and privacy of your backyard. Although outdoor kitchen designs vary, there's one design item that's a must: countertops. Countertops give you plenty of space for preparing and serving food and depending on the design, a place to dine as well.
There are a variety of materials that look amazing as outdoor kitchen countertops, but some of them work better than others because of factors like durability, maintenance requirements, and heat or UV resistance. When planning your outdoor kitchen, you'll also want to consider the overall aesthetic you're going for. Do you want something sleek and modern, or more rustic? Since the countertops are one of the most widespread and visible elements of your outdoor kitchen, choosing one color or pattern can set the tone for the style of your space.
With this in mind, here are two materials that work perfectly for outdoor kitchen countertops:
Granite Countertops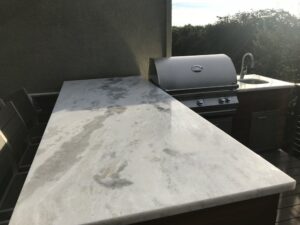 Granite is among one of the best overall materials for outdoor kitchen countertops. It's a natural stone that's highly durable and holds up well to any weather conditions we experience in the Bay Area. It's easy to maintain, although maintenance varies depending on the color of the granite. Dark-colored granite only requires annual sealing with a water-based or oil-based sealer. The lighter colors are more porous, so they require more coats of sealer and to be sealed more periodically. We recommend resealing about every six months to a year.
If properly sealed, granite is resistant to stains, mold, and mildew, so even messy foods or rain won't affect it. Although granite has a very high heat tolerance, sudden temperature changes could cause damage to the stone or finish. For this reason, we recommend using hot pads or trivets to keep the surface protected. As a rule, we recommend using gentle cleansers on all-natural stone products.
Granite comes in a wide variety of colors and styles, making it easy to find the perfect selection for your outdoor countertops. No matter which one you choose, you won't have to worry about fading from sun exposure. One thing to keep in mind is that direct sunlight can make the darker colors of granite hot to the touch, so if you're planning your outdoor kitchen in an area without an overhang or shade, you may want to consider a lighter color.
Quartzite Countertops
Quartzite is another stunning option that's ideal for many outdoor kitchen countertops. Not to be confused with quartz (which is an engineered, semi-natural stone), quartzite is a natural stone that has a naturally shiny surface and a mosaic of quartz and other minerals running through it. This composition gives it both strength and beauty.
Quartzite shares some of the same qualities as granite: it's very durable, UV resistant, and heat resistant. Unlike the busier appearance of granite, quartzite mimics the appearance of marble, with a variety of colors that typically feature muted hues with gorgeous darker veining that makes for an eye-catching contrast. Since it's UV-resistant, you won't have to worry about fading.
Maintenance and cleaning quartzite is identical to granite; darker colors should be sealed once a year (more frequently for lighter colors), and although it's heat resistant, we recommend using hot pads and trivets to prevent issues caused by drastic changes in temperature. Gentle cleaners are also recommended. One important difference is that quartzite can become stained or scratched. For this reason, it's best to use a cutting board and to clean up spills quickly. It's also sensitive to acidic beverages and substances.
Planning an Outdoor Kitchen? Contact Artistic Stone!If you're planning an outdoor kitchen, Artistic Stone can help you turn your vision into a reality with custom and semi-custom outdoor kitchen countertops and BBQ countertops. We're able to accommodate irregular BBQ shapes as well! Get an idea of the process and see some examples of our work here. As with all our fabrication and installations, we offer a 2-year conditional warranty and work with you on every aspect of your project, from selecting materials to installation. We're happy to go over each material in more detail to help you select the perfect one for your outdoor kitchen! For questions or more information, contact Artistic Stone today!