Forget splashy, trendy paint colors that last a year or two. With the right material, a stone wall can be a beautiful natural art piece and a focal point in any given room. Whether you want to spruce up your bathroom, or you've identified the perfect accent wall in your living room or kitchen, walls tiles or slabs can serve two functions: protection, and decoration.  A tiled or slab wall is protected by a barrier against moisture and the wear and tear of time.  Certain tiles or slabs carry beautiful, unique patterns, greatly enhancing the visual feel of your home.
Stone Slabs for Walls
Slabs of natural stone or quartz are great options for bathroom walls. A slab shower or wall will have no grout joints and only minimal seams. Come visit our showroom to get ideas for slab shower designs.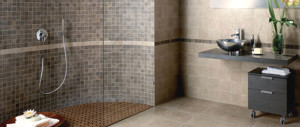 Tiles for Walls
The most common locations for wall tiles are bathroom tub and shower walls and kitchen backsplashes. Wall tiles may be mixed in with accent tiles such as squares or linear mosaics, bringing color and visual interest to the space. Artistic Stone carries some designs which create an entire mosaic wall as an accent.