If you've been planning to remodel your kitchen or simply add new countertops, you might be considering trying your hand at much of the work yourself. However, not all home projects are alike – and while some types may be easy to do yourself, it starts to get tricky when the project involves cutout, level surfaces, and seams.
For these types of projects, it pays to work with Artistic Stone! Here are just a few reasons:
Expertise: Designing a kitchen or bathroom requires knowledge and experience of space planning, color ideas, building code, and industrial standard.
Avoiding mistakes: Kitchen elements like cabinets, countertops, and tiles become semi-permanent once they're installed – so it's important to find someone who knows what they're doing to avoid costly or unsightly mistakes!
Licensing: We're licensed, bonded, and insured – plus, we offer a 2-year warranty!
Those are just a few reasons why working with a skilled contractor can help you have the best outcome on your project. However, our service and products also make us stand in the industry!
A Wide Selection of High Quality, Durable Products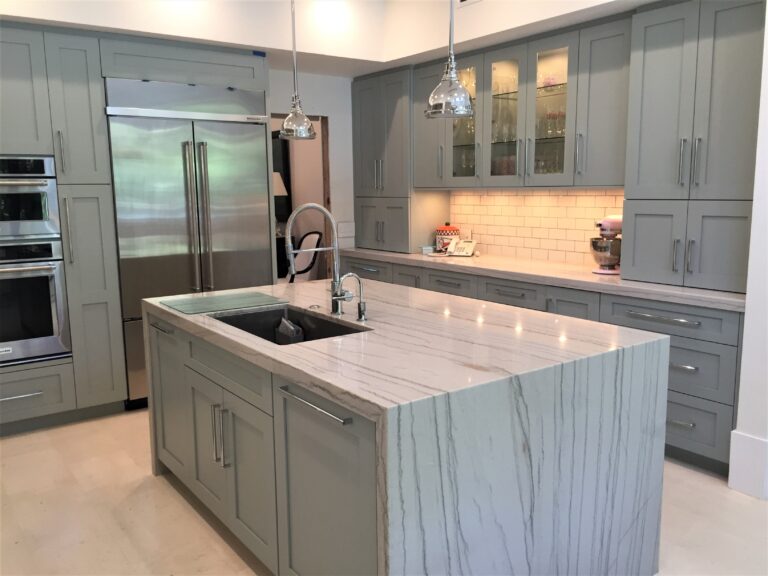 Prefabricated products can vary from supplier to supplier, but all our prefabricated products are high-quality (first grade for natural stone), durable, and ¾" thick. We offer the largest selection of colors and materials (quartz and natural stone) in the Bay Area, and we keep all of them in stock.
Our one-stop-shopping featuring countertops, cabinets, tile, sinks, and faucets make it easy for you to build the kitchen of your dreams. We can also create matching islands and peninsulas with countertops. Our prefab-islands are in stock, with several sizes to choose from, including 36×110, 42×110, and 52×100.
We carry prefabricated countertops with several types of edging, including custom miter edge for most of the quartz and some of the natural stone. Although quartzite and porcelain are typically only available in slab, we are one of the few companies who carry pre-fab options in stock, which allow you to get some very nice and unique colors at a good price – and it produces less waste. In addition, we have 4" and 7" splashes available for most of our colors, making it easy to cover the damage from 4" or 6" tile splash demolition.
Our Service Sets Us Apart
At Artistic Stone, we're committed to providing the best customer service in the industry. We take the time to work with you individually, one-on-one, so we can listen to and understand your needs. Once we know what you're looking for, we work with you to find the perfect materials. We even offer a free color consultation!
We'll help you choose each piece to make sure they match well, pulling the slabs and pre-fabricated counters and taping them based on the measurements or templates. Once you've chosen your materials, we won't put them back into stock. This ensures that we use the exact pieces you chose for your project.
We also offer fabrication for pre-fab and custom options! Everything is done in-house, from fabrication to installation. Our in-house installers ensure the project is completed to our high standards and makes it much easier to coordinate scheduling. Once your countertops have been installed, we can also help you keep them sealed and well-maintained with our sealer service!
Contact Artistic Stone to Get Started!
If you're ready to get started on your project, schedule a visit to our San Leandro or Mountain View showroom, or contact us to discuss how we can help you. We look forward to helping you transform your home!