Have you been considering remodeling your kitchen or bathroom? With the current kitchen and bathroom trends, there's never been a better time! In the past decade, European styles have been coveted, spurred in part by the wedding of Prince William and Kate Middleton. Exotic woods and colors like taupe, gray, and soft brown reigned as some of the hottest trends. Fast forward to today. The trends have certainly shifted, with brighter, timeless contemporary styles replacing the darker, modern nature of European styles.
What is Contemporary Style?
Contemporary style combines elements from a range of styles that were developed in the latter half of the 20th century. These include features like soft and rounded lines, which is in stark contrast to the stark lines of modern styles. Contemporary color schemes feature tone-on-tone palettes, with neutral hues like brown, taupe, cream, and pure white. Pops of color are often used selectively, such as a bright tiled backsplash, appliances, or a striking floor rug.
Contemporary furniture has clean lines, smooth surfaces, without ornate carvings or adornments. The silhouette is often slim but substantial. Light-colored woods with minimal graining, like maple and birch, is also commonly found in contemporary styles, as well as frosted or clear glass, stainless steel, nickel, and chrome. In terms of fabrics, natural materials like silk, wool, linen, and cotton are utilized for their neutral hues and textural aspects.
Occasional use of a bold color or geometric pattern can also add an eye-catching element to the room. Lighting is used as an artistic statement, so you'll also find floor and table lamps with straight lines and metallic finishes, as well as recessed or track lighting that's designed to draw attention to particular elements, like a well-placed piece of art.
The transitional style between contemporary and classical is also becoming very popular. It typically features warm colors, like beige or gold to balance trendy, cool colors. The lines are typically less ornate than classical designs, but not quite as plain as contemporary. The general feel of the space is balanced, comfortable, and relaxed, with uncomplicated designs. Dark blue and off-white cabinets have become popular, as has using two contrasting colors for the island and counter cabinets.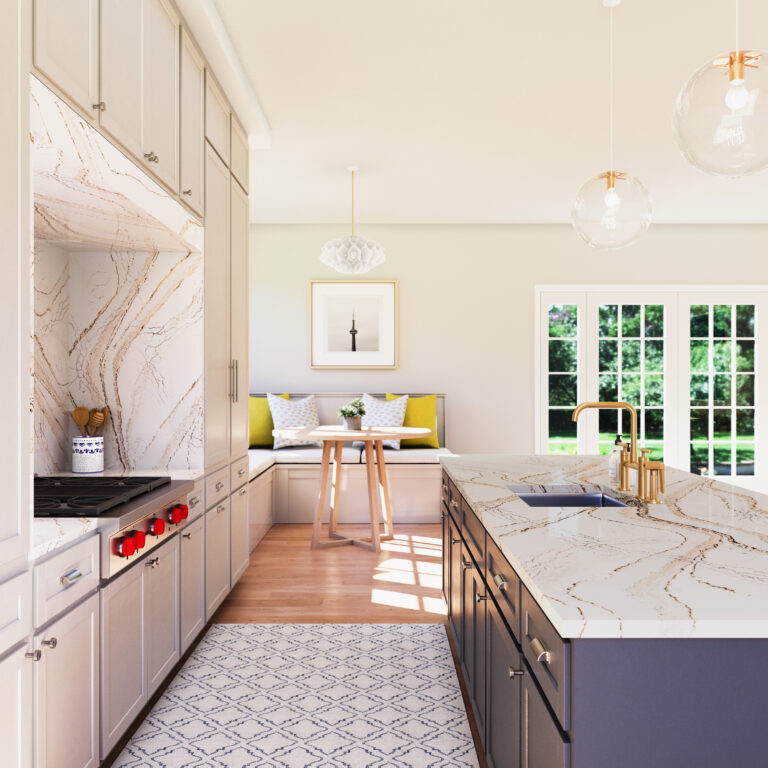 Kitchen palettes are also becoming more soothing as the room has moved to become more of a hub in the home. Matte finish quartz or stone has also become very popular, as it creates a soft, pleasing contrast to the shine of stainless steel appliances, glossy tile, and other types of textures.
In bathrooms, some of the current trends include floating vanities, linear drains, and Japanese-style soaking tubs, which are smaller and deeper than a standard bathtub.
Hopefully, this has given you a good understanding of the latest contemporary and transitional trends – and some inspiration! While many interior design styles come and go, contemporary is a wonderful investment. It can blend well with other styles for a trendy, eclectic look or make a beautiful, bold, timeless statement on its own.
At Artistic Stone, we specialize in making your dream a reality. Contact us today to get started on designing your new contemporary or transitional kitchen or bath!