As the global supply chain issues and bottlenecks at ports have continued, there have been significant delays in home remodeling projects. Homeowners and contractors alike have had difficulty receiving everything from furniture and appliances to raw materials. However, we have good news: Artistic Stone now has all of our products back in stock!
Our In-Stock Items
After a long wait, we've received 10 containers of beautiful, high-quality products! Our in-stock items include:
Prefabricated countertops, islands, and backsplashes
Our prefabricated countertops, islands, and backsplashes are slabs of natural or engineered stone that are pre-
dressed with edging and ready to be custom-sized for your project. We currently have all three items available in granite, quartzite, marble, and quartz. The quality of our prefabricated products is equivalent to our custom slabs, and they typically cost 30-40% less!
Prefabricated shower panels
Our prefabricated shower panels are made from a mixture of quartz, natural stone, and barrier resins. They're lightweight but strong and water-resistant. The shower panels are available in several sizes and can be purchased as a set of three or individual pieces. Since there's no grout, they're much easier to clean than traditional tile. If you'd like to add a luxurious touch to your bathroom, these are an excellent choice!
Slabs (also called raw slabs) are larger pieces of stone that need to be cut to size and fabricated before they're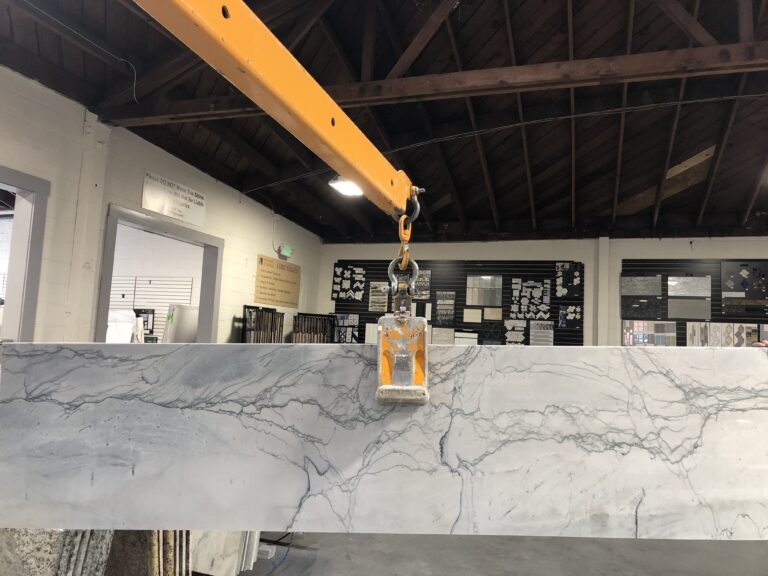 installed. Slabs can be the best option for some projects because they may allow for fewer seams, depending on the layout of your kitchen. We currently offer Cambria, Caesarstone, LG, Silestone, and Vadara, and we can get these in quickly after you've placed your order.
Don't Let Supply Chain Issues Get You Down! Visit Artistic Stone and Get Started on Your Project
Although supply chain issues are expected to continue throughout 2022, that doesn't mean you have to put your home upgrades on hold! Visit Artistic Stone today and find the perfect materials for your project. To better serve you, appointments are recommended.
To schedule an appointment or request an estimate, please call us at (510) 483-1298 (San Leandro) or (650) 988-8581 (Mountain View) or contact us online.